I stood there for a very long time! I couldn't say how long - I know I was weak with exhaustion and hunger, with confusion and anger, feeling 100% alone and wishing anything could, would be different. But nothing changed. 
Here I was looking down into the abyss and wondering why I shouldn't just fall in....
I remembered all of the days of my life - the great days when I married full of Love, watching my children being born and feeling my heart would burst with Joy, and the dark days and darkest nights that are all part of living - and I thought,
I thought who would care whether I lived or died? Who would even remember me with some semblance of care? My sons seem so busy - so tied up with their own families. My love was exhausted - over - so done that even the ashes could not be brought back to life. alone.
Then as if out of nowhere I remembered the beautiful story of Elijah. (1 Kings 19) At that moment, I knew that I was not alone! That I had never been alone. That there are people out there who may not even know my name but have known my deeds. That God IS unconditional LOVE! He heard my pain, my pleas to understand, my desolation for He had sent His only Son to the loneliness place on Earth - Gethsemane. Who am I that has suffered, yes, but not one iota of the suffering of My Lord Jesus!
So I stepped back carefully. I took a step back and looked on the beauty surrounding me. The words of Martin Luther King came to me: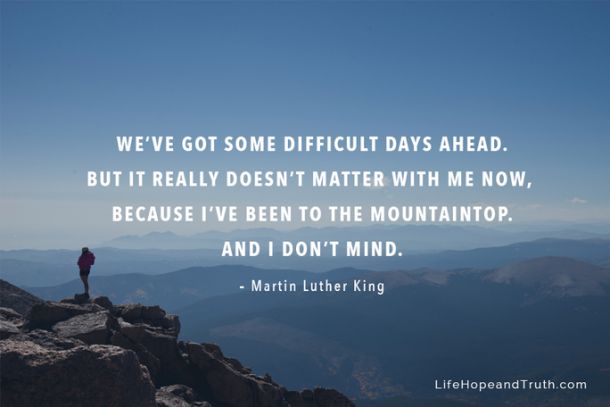 And I breathed!
Life can be lonely but we are never alone! Protect you Quit because Life is LOVE and Love is everywhere, always!