I know that QPC is for quitting smoking, and I may get kicked off here for setting this party up, but so be it......
Way to go Claudia!!!!! You're a winner girlfriend. You rode that pony cross the finish line and I am very grateful to know that you will be around to be my friend and encourage many more people on EX for a long, long time to come.
Dance my friend, DANCE!!!!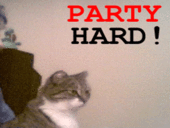 glitter-graphics.com