Last week, I had a long (30 hour) layover in West Palm Beach, where Teddy (joyeuxencore) lives.  I've been to Teddy's stomping grounds before, but this time Tommy drove all the way from Naples across the state to join us, so it was a most excellent day.
Teddy took me to brunch at The Sailfish Marina, a beautiful restaurant on the waterfront.  We ordered crab omelets.  We had talked ourselves into thinking they were sort of a healthy choice, until they arrived at the table with melted cheese all over the top and grits/toast on the side!  We ate the fruit garnishes to assuage our guilt. We are masters of dietary self-delusion.
.
Selfies are often more enjoyable in teeny tiny size, so as to minimize my wrinkles.  Actually, selfies are never enjoyable, but anyway..
.
Then we went to Teddy's theatre (West Palm Beach DramaWorks, where she is the House Manager) to meet up with Tommy.  Teddy had to go to work, Tommy hadn't eaten yet and we had two hours to kill before the matinee began...so Tommy and I walked down the street to a restaurant uncompromisingly calling itself "Grease".  Tommy is on a strict carnivore diet, so we bellied up to the table and ate...meat.  And more meat.  Mine was a cheddar bacon burger which was the size of a Volkswagon Beetle.  I don't recall what Tommy ordered, but it was a lot of meat and it came with a very large steak knife and a bucket of fries. Delicious.
Then we met Teddy at her theatre to see the matinee performance of "A Most Happy Fella" which I'd never heard of, but was written by the guy who wrote "Guys & Dolls" and "How to Succeed in Business Without Really Trying".
. 
It was an EXCELLENT show and it was very cool to see Teddy at work, especially when she got up on the stage to welcome everyone and get the show started.  After the show, Teddy had two hours off and wanted to go to dinner.  More food??  Sure, why not?  So we walked down to a lovely restaurant called Oli's.  Actually, it was called Oli's Fashion Cuisine.  Could be healthy.  Could be fattening.  Could go either way...  It went fattening, complete with desserts to share, for which I bear the entire blame.
This place had an entire wall that was a waterfall.  Check out the photo.  So cool.  The food was great.  Here's the salmon that Teddy had:
We won't discuss what I ordered.  Tommy had more meat.
The very best part of the dinner was getting to talk to Giulia!!!  Tommy dialed her up and we passed the phone around the table. The waitress got a picture of the three of us.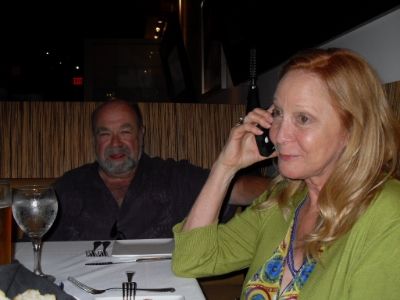 I got to talk to Giulia, too, which was absolutely excellent. I was too excited to remember to take a selfie of that.  Darn.  Teddy had to go back to work for the evening performance, Tommy had yet to drive all the way back across the state to Naples and I had a painfully early pick-up at the hotel at 4:15am to work a crack-of-dawn flight.  So we corraled a security guard and had him take a bunch of pictures outside the theater.
It was a brilliant, fantastic, perfect day.  I came away with several observations:
1) Tommy is the most generous human being on earth.
2)  Teddy has amazing hair.
3)  I really must stop trying to cut my own bangs with fingernail scissors in hotel bathrooms.
4)  We ate too much.  Waaay too much.
5)  Best of all, there IS fun to be had after quitting smoking.  Lots of it!  And we didn't miss a minute of it because we weren't taking turns sneaking outside for cigarette breaks.  Heck, it's like we found extra time in our day to hang out together!
(Sorry this is so long!)
xxxooo,   Sky