Welcome all Exers! I am so pleased to be conducting the train today. I don't think I partied nearly as hard as some did (you know who you are!) last night at the bonfire but kudos to Misty@Dawn for hosting a bang up party. If you haven't tossed your un-smoked cigarettes in the now smouldering ashes you can still do so. The books on the count are still open. Besides it is a thrill to add up those un-smoked butts and virtually toss them away forever.
My conductor notes list three people who, while here for a relatively short period of time, have endeared themselves to many. So please board the train as I stop at your station. First up is a young man from Massachusetts. Let's hope he's up! LOL Lee has reached his first 50 smoke free days today! Congrats dude. Lee likes music, writing, painting and the outdoors. He says he has a thing for all things nostalgic that remind him of his childhood. Let's give Lee a round of applause everyone!
Our next special honoree is Sherrydenise with 50 days! Sherry lives in Anaheim, Ca., and loves gardening and sewing. The thing I remember the most about Sherry was how positive her blogs were from the beginning, even when she was giving us her "bitchy" count for the day! I never saw the scale but she had one!!! Come on up here Sherrydenise and have some fun. You deserve it!
A special warm and fuzzie welcome to Newfound Joy with 100 smoke free days today! Welcome to the Triple Digit Club! A self-proclaimed serial quitter, Joy has finally done it. A quote from her profile is "The fear of quitting smoking is way worse then the actual quit itself." You made it woman! Happy happy joy joy! We are proud of you and know you are very proud of yourself, not to mention how your loving family must be feeling! Way to go!
Are you ready? I know I am, so let the engines go!
This train is bound for FREEDOM from the Evils of tobacco and smoking!
"IF YOU ARE NOT RIDING WITH US, YOU ARE MISSING THE TRAIN"
ALLLLLLLLLLLLLLLLLLLLLL ABOARD!!!!!!!!! Maggie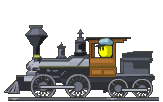 What a lovely day, wouldn't you say? Let's celebrate the season! Life is good!